So as I am sure you have heard the media swarming around the County Clerk in Kentucky who has refused to issue marriage licenses. This was in response to the Supreme Court ruling that love is love and any 2 people who want to marry have the legal right to do so. Now I am here all day for people who stand up for what they believe in. Shout it from the mountain tops. Passion for your beliefs is healthy. But what I am not here for is when you are in a government position and you refuse to carry out your elected position. As an elected official you have the responsibility of upholding the law…like the one that requires you to sign on the dotted line of all marriage licenses regardless of the couple. Let's roll back to colonial times when the founding fathers of this country wrote "separation of church and state" thus your argument that you are carrying out God's authority is null and void in your government position. If you truly do not believe in marriage equality and your in a position of issuing the marriage licenses just step down. If you chose not to do that a Federal judge will jail you and that's what happened. The memes that have been created in response to this are giving me what I need out of this world. I have compiled a few below…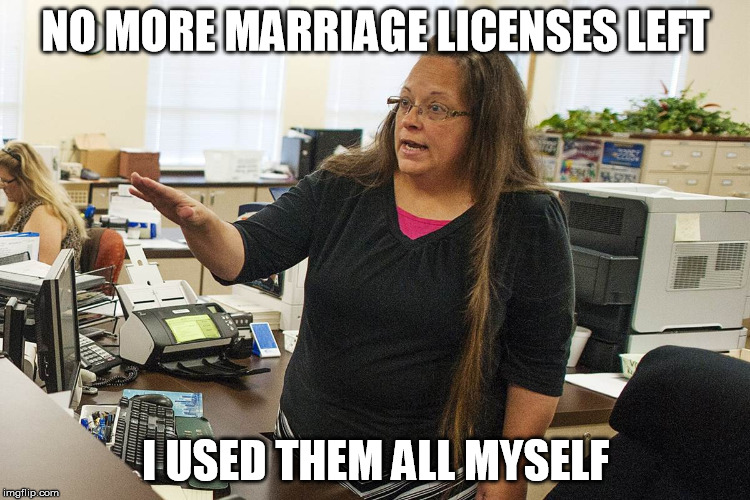 As of this morning, the first same-sex couple was able to get their marriage license from the Rowan County Court House.
Again, stand up for your beliefs but if you are an elected official you have the duty to uphold the law. If your beliefs and the law aren't in line step down from your position. I wish you the best Ms. Davis in jail and beyond.
Remember to change the world!
Inspirationally,
Nick